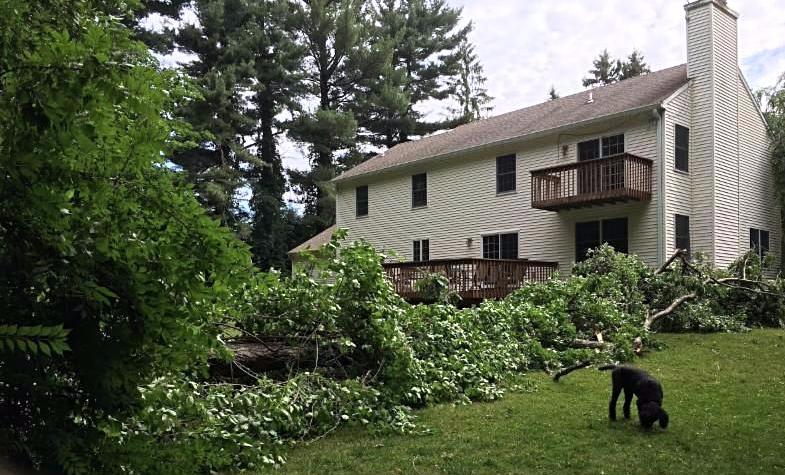 "How art the Mighty Fallen!" Crosby Hammerman inspecting the fallen tree.
See Yom Kippur Day sermon, linked below.
Shabbat Shalom
Coming down from the highest of high holidays, we head straight into Shabbat and the festival of Sukkot. Thank you to all who made Yom Kippur so special.
For those wishing to see the Rosh Hashanah sermons, I've posted them
here
.
The outpouring of support for the food drive has been overwhelming. You can join the crew of volunteers who will be unloading it on Sunday, October 16
th
12:30-3:00 at Person to Person, 1864 Post Road, Darien
Blowin' in the Wind
Tonight at services we'll pay homage to Bob Dylan's Nobel Prize. See a Jewish tribute here. It so happens that Blowin' in the Wind is also perfect for the week of Sukkot. The sukkah itself is supposed to be blowin' in the wind - and on this festival we begin to include a special line in our daily prayers recognizing the power of wind and rain. And how many times must a man look up, before he can see the sky? Hopefully, when in the sukkah not too many, because we should be able to see the stars peeking through the flimsy organic covering? The sukkah is the perfect place to contemplate Dylanesque questions. Here's what he wrote about that song in 1963:
There ain't too much I can say about this song except that the answer is blowing in the wind. It ain't in no book or movie or TV show or discussion group. Man, it's in the wind - and it's blowing in the wind. Too many of these hip people are telling me where the answer is but oh I won't believe that. I still say it's in the wind and just like a restless piece of paper it's got to come down some ...But the only trouble is that no one picks up the answer when it comes down so not too many people get to see and know . . . and then it flies away. I still say that some of the biggest criminals are those that turn their heads away when they see wrong and know it's wrong. I'm only 21 years old and I know that there's been too many . . You people over 21, you're older and smarter.
We'll follow up with a more in depth conversation about Dylan's poetry-songs tomorrow morning, when the Song of Moses (Parashat Ha'azinu) is chanted. BTW, in Hebrew there is no difference between a song and a poem. Same word: shir/ shira. Dylan's relationship with Judaism was, to put it mildly, complicated. But Jewish sensibilities were never far from the surface of his lyrics.
-----------------------------------

Keep in mind these upcoming events...
Sha-Ba-Bim-Bam tomorrow at 11 for ages 5 and under and their sibs - and parents. Music, fun, and lunch! Also Sukkot services and children's programs on Monday (followed by Pizza in the Hut).
A reminder that our office is closed on Mon and Tues for the holiday.
If you haven't already taken a look at our Jewish Heritage Tour of Eastern Europe set for next July, check out the itinerary and other details and take advantage of our early bird discount, which is good until the end of October.
Advance sign up has been excellent for our adult ed series with JTS, "The Ethical Life". Sign up now through our education off

ice,

(203) 322-6901, ext. 305.

We are expecting a really nice crowd for our

first Shababimbom event for preschoolers and parents, next Shabbat morn

ing at 11.

(See the flyer here)
Mark your calendars for the Hoffman Lecture on October 27

:

Zero-Sum Empathy: What I Learned Covering Israel and the Palestinians, featuring Jodi Rudoren, deputy international editor of The New York Times.
Come to the Sukkah Hop - next door at my sukkah on Sun. Oct. 23, from 12 - 1:30 PM
Sukkot