I just had to share (with permission) this photo of TBE young adults Jordan Ganz and Stacey Hazen, whose paths happen to cross in Rome recently. I guess all roads DO lead to Rome - if they originate on Roxbury Rd.

Top O' the Shabbat To You!

We have so much in common - after all, both Jewish and Irish end in "ish." In Hebrew, "ish" means human. What we share is the entirety of the human experience, with all the passion and the pain. For more, see this short essay" "On St. Patricks Day, the Rabbi Wears Green."
TONIGHT @ 7:30
Dr. Kareem Adeeb and the Reverend Shannon White will join me to discuss "Christians, Muslims and Jews: Forging a Common Path" (see flyer)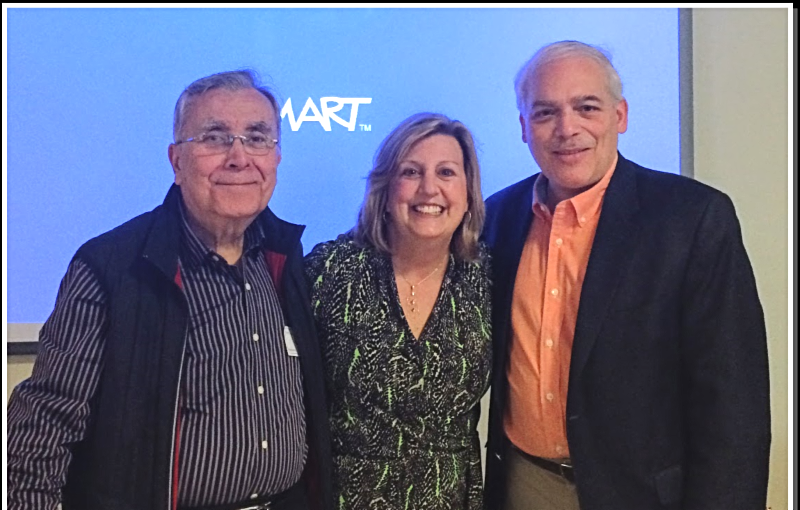 As we continue to defrost from Tuesday's storm, you may want to read about snow in Jewish culture. Or think back to a wondrous Purim by looking at Talia Raich's Bat Mitzvah D'var Megilla. Or read up on this special Shabbat, known as Shabbat Parah (the Shabbat of the Red Heifer).
Salute to Spring
Monday is the first day of spring. We may have to navigate our way past a few more snowflakes first, but it will, in fact, arrive. In honor of spring, I've uploaded what was arguably my most environmentally-based sermon (and certainly the most "hands on"), delivered here on Yom Kippur way back in 1991, in my assistant rabbi days. Some might recall it as the "earth ball" sermon, when, while I spoke, the congregation passed a giant earth ball, from one person to the next. You can listen to it by clicking here.

In 1949, a small book was published that some say revolutionized the environmental movement. In "Sand County Almanac," Aldo Leopold collected his nature writings into a year long diary, bringing us in tune with the rhythms of the seasons in his native Wisconsin. The Almanac was published just after he died, ironically, while fighting a wildfire. Nature's beauty and its cruelty were felt most acutely by this conservationist, who defined ecology as the "science of relationship" and understood that our relationship to the Land is the most fundamental of all.

With so many urgent concerns swirling around these days, from immigration to health care, it is too easy to neglect that increasingly dark cloud of climate change that is a looming emergency. News this week of the dramatic demise of large sections of the Great Barrier Reef only heightens that urgency. Somehow, this NASA webpage is still standing, which details the unequivocal evidence of the accelerating warming and its human causes.
To his great credit, Defense Secretary Mattis stated yesterday, "I agree that the effects of a changing climate - such as increased maritime access to the Arctic, rising sea levels, desertification, among others - impact our security situation." This is especially significant in light of the new EPA head's denial that carbon dioxide is causing global warming - an idea scientists have compared to disputing gravity. We can be thankful that General Mattis made clear climate change is a serious problem.
As one of the last century's great environmentalists, Aldo Leopold had no idea where things were heading. He reminds us of simpler times. So does the Jewish calendar, which places the annual celebration of our national rebirth squarely in line with nature's. The Jewish calendar places us right in the front row of nature's miraculous blessings. Here are some memorable passages from Leopold's work:
The Geese Return
One swallow does not make a summer, but one skein of geese, cleaving the murk of a March thaw, is the spring. A cardinal, whistling spring to a thaw but later finding himself mistaken, can retrieve his error by resuming his winter silence. A chipmunk, emerging for a sunbath but finding a blizzard, has only to go back to bed. But a migrating goose, staking two hundred miles of black night on the chance of finding a hole in the lake, has no easy chance for retreat. His arrival carries the conviction of a prophet who has burned his bridges.

A March Morning
A March morning is only as drab as he who walks in it without a glance skyward, ear cocked for geese...Once the first geese are in, they honk a clamorous invitation to each migrating flock, and in a few days the marsh is full of them.

Wild Things
There are some who can live without wild things and some who cannot....Like winds and sunsets, wild things were taken for granted until progress began to do away with them.
NO ONE DOES PURIM...
Thank you to all our adult and teen volunteers, and to everyone who helped to make this Purim a very
Big Megilla!
Time's a Fleetin'...
Reserve NOW for these Pesach events!
4)
Shababimbam Celebrates Passover - April 1
Space is limited! Sign up today!
PASSOVER IS COMING!
Putting your morality where your mouth is
Why is this Passover different from all others? Well, it isn't, but some have found a special need to focus on social justice concerns this year. So here are some ways you can change your dishes and change the world at the same time...
Organic Matza and Slavery-Free Chocolate
Back by popular demand, we will be a distribution point for Eretz Goshen's organic hand matzos, made from wheat grown at the Yiddish Farm in Goshen, NY. The matzos are certified Kosher for Passover and certified organic. They've added several new products this year including matzo meal and, you read it right, horseradish root (limited supply)! You can even support Yiddish Farm by purchasing a matzo themed t-shirt! They are also happy to report that we have more than enough spelt matzos available to meet demand (their spelt matzos are simply delicious!).

Prices are $33.99 for Whole Wheat Matzo, $36.99 for Spelt, $16.99 for matzo meal, $18.18 for Horseradish root, and $29.99 for a t-shirt. To order, go to their website or contact Yisroel Bass: yisroel@yiddishfarm.org
Order your fair-trade, kosher-for-Passover chocolate bars today and ensure that your seder is free of the child labor and child slavery that plagues much of the cocoa industry. The maror (bitter herb) that we eat at seder reminds us of the pain of slavery. This year, let the sweetness of the first kosher-for-Passover slavery-free chocolate remind us that liberation is possible, and tasty, too! These delicious chocolate bars-in flavors that include chocolate espresso bean and lemon ginger chocolate-are the very first Passover chocolate guaranteed to be free of slavery or child labor. You can order your fair-trade, slavery free chocolate here, and click here to see what Fair Trade is a prime Jewish value. This year's chocolate includes a sample box of all eight varieties of chocolate that you can give as a gift to your host.
Other Seder Suggestions:
(
I did all the research so you don't have to!)
Moving from the palate to the Plate, here are some Passover and Haggadah-related downloads that I recommend to enhance your Seders. Freedom and liberation are what Passover is all about, along with a healthy dose of Jewish identity. I've tried to find examples that span the ideological spectrum - but note that Passover by its very nature is activist. Think of Nachshon, the intrepid Israelite who needed to be the first to go into the Red Sea before God would cause it to split. Yes, there is a Haggadah for everyone. If you are planning to invite some anti-Semites to your table, you can even make them feel right at home by Googling "Seder of Hate" (I won't link to it) and downloading some garbage from one of the most notorious anti-Semitic blogs out there.