Yom Hashoah Events
Broadcast of Holocaust Remembrance Day Opening Ceremony 2020 from Yad Vashem, with English subtitles - Begins at 1 PM Eastern Time
The Rabbinical Assembly and the Schechter Institute co-published Megillat Hashoah - The Shoah Scroll - in five languages (Hebrew, English, French, Spanish and Russian) and it's been read every year at synagogues, schools and JCC's all over the world.
This year, we will sponsor an international reading of Megillat Hashoah as a symbol of Jewish solidarity during the current crisis.
The reading will take place on Yom Hashoah, April 21st, at
Yellow Candle: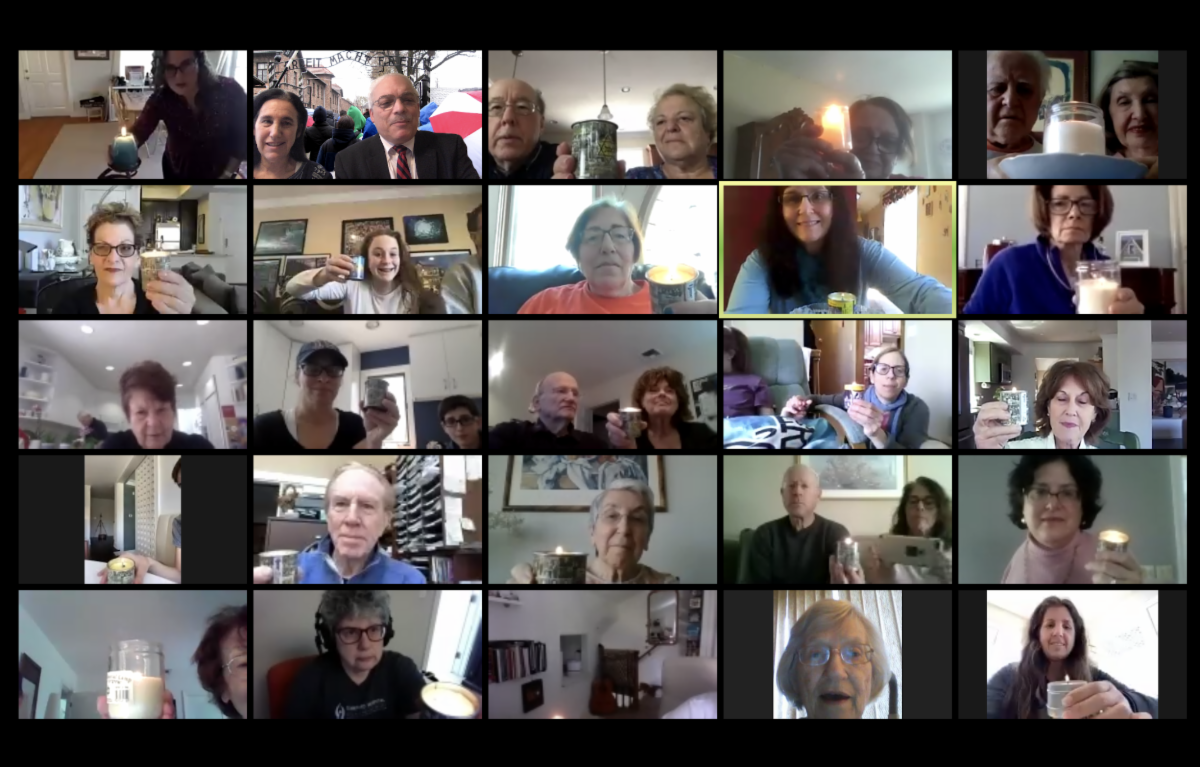 AT YESTERDAY'S YOM HASHOAH HEALING AND REMEMBRANCE PROGRAM, OUR 7TH GRADERS LED US IN LIGHTING AND DISPLAYING OUR YELLOW CANDLES. BELOW IS A MEDITATION FOR YOU AS WE LIGHT THEM AGAIN TONIGHT.
MEDITATION
In these memorable days, as I light this Yellow Candle, I vow never to forget the lives of the Jewish men, women, and children who are symbolized by this flame. They were tortured and brutalized by human beings who acted like beasts; their lives were taken in cruelty. May we be inspired to learn more about our six million brothers and sisters as individuals and as communities, to recall their memory throughout the year, so that they will not suffer a double death. To that end, I now memorialize the name and life of (Name Below) who as a child was denied an entire lifetime of dreams and hope. May I embody the beauty and goodness of what could have been had s/he lived. May we recall not only the terror of their deaths, but also the splendor of their lives. May the memory of their lives inspire us to hallow our own lives and to live meaningful Jewish lives so that we may help to ensure that part of who they were shall endure always.

First Name
Last Name
Date of Birth
Place of Residence
Place of Death
Date of Death
Age
246+ Organizations are Sharing Light with Yellow Candles
At yesterday afternoon's session, we heard some of survivor Judy Altmann's story. For those who want to hear the whole talk
you can find it here
.
Auschwitz at 75: From sorrow to song
The 20th-century Jewish theologian Abraham Joshua Heschel wrote, "There are three ways in which we respond to sorrow. On the first level, we cry; on the second level, we are silent; on the highest level, we take sorrow and turn it into song."
These responses to tragedy mirror how Jews have responded to the Holocaust over the past seven decades, from overwhelming grief to numbed silence. Today, as we commemorate the 75th anniversary of the liberation of Auschwitz, the time has come to turn the sorrow into song - in a sense, to embrace Auschwitz.
Let me be clear: There was nothing good about the Holocaust. What happened during the period of Nazi hegemony over Europe was the nadir of human history. No other event is remotely comparable. It is difficult to conceive of an atrocity so maliciously designed and meticulously carried out on so vast a scale.
I've spent the better part of my career as a rabbi and writer trying to reframe Judaism in positive terms. For me that means steering the conversation away from the Holocaust lest my own faith wither on the vine. This historic black hole poses questions that are unanswerable, eclipsing centuries of Jewish achievement, nurturing neurosis. It gave us an excuse to hate, and it gave our children an excuse to opt out of being Jewish altogether: Who would want to be part of such a hopeless, hapless people?
But recently I've discovered that the opposite is true. Judaism is being interpreted anew through the prism of this epochal event. We are hearing the first stirrings of a song.
Throughout Jewish history it has become axiomatic that approximately seven decades after an enormous disaster, new creative expressions of faith have surfaced. Just as Jews traditionally rise from mourning after seven days, so do we rise collectively from trauma after 70 years.
Seventy years after the first temple was destroyed in 586 B.C., King Cyrus restored hope to a Jewish people who had already begun adapting their religion to the new realities of residing in exile by the rivers of Babylon. Seven decades after the massacres of the First Crusade in 1096, dramatic changes began to revolutionize Jewish philosophy and law. Seventy years after the expulsion from Spain in 1492, which displaced 200,000 Jews and resulted in tens of thousands of deaths, Jewish life was replanted in Safed, Palestine, and it came to full flower with the publication of the great law code, the Shulchan Aruch, in 1565.
The year 1648 was a dark one for Eastern European Jewry, as a Cossack revolt killed upwards of 100,000 Jews. Almost exactly 70 years later, Israel Ben Eliezer, known as the Baal Shem Tov, introduced Hasidism to Polish Jews. In early Hasidic literature, the Baal Shem Tov's followers see a direct historical link from the ordeals of 1648 to their teacher's ministry, asserting that this charismatic leader "awakened the people Israel from their long coma and brought them renewed joy in the nearness of God."
Seventy-some years past Auschwitz, we have a new opportunity. Here is what I mean.
First, Jews need to embrace the obligation to be surrogate witnesses as the last group of the actual witnesses departs.
Elie Wiesel said that "to listen to a witness is to become one." What Jews were charged to do at Sinai - to be pillars of morality, a nation of priests - now takes on an added urgency. All Jews need to learn how to tell the witnesses' stories with love and conviction and with bursting pride at their incomprehensible acts of heroism and faith.
Second, we need to recognize that the Holocaust has taken its place at the very core of what it means to be Jewish.
The 2013 Pew survey of American Jewry asked, "What does it mean to be Jewish?" providing respondents nine suggested Jewish activities and attributes from which to select those deemed "essential." Just 19% chose "Observing Jewish law." By far the leading answer was "Remembering the Holocaust," at 73%.
You can't get three-quarters of American Jews to agree on anything, not even what to put on a bagel. If there is to be a core to our self-image as Jews, it is far more likely to come from Auschwitz than from Sinai. We know as well that Israeli Jews and American Jews don't agree on much these days, but when Israeli Jews were asked the same question, the result was nearly identical.
The Holocaust, in short, is our greatest common denominator. Any expression of Judaism to emerge from the modern era must have the Holocaust at its core, or it will not be authentic.
But just as it cannot deny the abyss, any modern expression of Judaism must also speak to the need to affirm joy, beauty, renewed life and at least the possibility of a responsive divinity, or it will not survive.
The Torah of Sinai, the backbone of rabbinic Judaism, now has a companion narrative that I call the Torah of Auschwitz, sacred teachings and practices that have begun to coalesce into a canon, enabling us to confront the darkest demons of seven decades ago. At the same time, this narrative is filled with positive and life-affirming lessons for the entire world.
Just as the evil perpetrated by the Nazis has no historical parallel, so, too, does the valor of the Holocaust era dwarf anything we have ever seen, even in the Bible. When it comes to pure courage and unfathomable love, Joshua, Miriam and David can't hold a candle to the stories of

Janusz Korczak

,

Mordecai Anielewicz

and

Hannah Szenes

. The prophetic proclamations of Jeremiah and Isaiah are mirrored - and perhaps surpassed - by the immortal words of such modern-day prophets as Primo Levi and Viktor Frankl.
As for Oskar Schindler and Raoul Wallenberg and over 11,000 Righteous Gentiles honored at the Yad Vashem Holocaust Memorial, the modern-day Righteous Gentile really has no parallel in the Hebrew Bible. When the Israelites were slaves in Egypt, no one offered to take them in. (Okay, Pharaoh's daughter took in baby Moses, but that's it.)
How can we not burst with pride at the poetry, the scraps of food shared; the secret Seders; the impossible escapes; the beautiful children of Terezin; how the victims were able to maintain their dignity and humanity in the most inhuman conditions, protecting their loved ones - even somehow falling in love?
Anne Frank, so eternally appealing is her very ordinariness, has already become a universal symbol of innocence and steadfast optimism in the face of pure evil, eclipsing ancient heroines like Ruth and Esther in our collective imagination. She has inspired multiple dramas, films and novels and drew 1.3 million visitors to her secret annex in Amsterdam in 2016 alone. The Torah of Auschwitz that is now emerging will feature her wisdom as its book of Proverbs and Elie Wiesel's "Night" as its Book of Job.
The Torah of Auschwitz has already transformed religious practice and biblical interpretation. The injunction to remember the evil perpetrated by Amalek, recorded in the Book of Deuteronomy, has metamorphosed into the post-Holocaust rallying cry, "Never again."
It is said that every Jew, past, present and future, stood at Sinai. Every Jew also stood, metaphorically, in those gas chambers as well. It didn't matter whether you were male or female, traditional, liberal or secular, born Jewish, converted to Judaism or married to a Jew - or even merely the grandchild of a Jew. The Holocaust has given us a common point of departure, a place where we were all present, even if we weren't. Jewish unity, to the degree that it can be reestablished at all, is attainable only in the context of that shared experience and the affirmation that Auschwitz must never happen again.
When Jews invoke Auschwitz, the world listens - because we were there. Many hate us for that, especially if they fetishize fascism. Others admire us. But everyone listens. Let us sing.
This piece was distributed by Religion News Service.
The Tearful Falafel Guy
Remember that tearful Native American who became the symbol of America's environmental crisis back in the 1970s? Someone had to wake us up to the consequences of our irresponsible actions and he did.
This iconic image even spawned a Simpsons take-off.
Now in Israel, there is
the sobbing falafel seller
, who has become a symbol of the coronavirus' financial toll. According to the Times of Israel, an Israeli TV
report described Yuval Carmi as a man whose anguished pleas "have turned him into the symbol of the economic collapse," Channel 13 reporter Noga Nir Neeman said. "A man who paid his taxes for years and provided honorably for himself and his family, and who, with his business in ruins, doesn't understand why the state isn't helping him."
The Times reports that the TV reporter said Carmi stood quietly when the TV station's camera crew arrived, "and just asked to be allowed to tell his story." As they started filming, Carmi reported that a customer had just arrived, but that police had prevented him from serving him, because falafel stands, like all restaurants, are not allowed to serve customers, but only to deliver food, "and I'm not set up to do deliveries."
He said he reopened his small store on Sunday morning, believing that the newly eased COVID-19 restrictions meant he was allowed to do so, but that police had told him he could only do deliveries. "It's falafel," he wept. "Falafel has to be eaten hot and fresh."
We all know that falafel guy. For some of us it might be a hot dog vendor at Yankee Stadium or the bagel guy on the corner, or a
90-year old lox slicer at Zabars who was forced to put down his knife because of the coronavirus
after working there since 1994. Eating is profoundly social, and those people who have been serving us through the years become part of the family.



But in Israel, falafel is something more, the soul of the country all smooshed up into a sizzling chickpea ball. Falafel vendors usually hand you a free samples while you wait, but Yuval Carmi did more than that, providing free meals to many, and now he's yet another victim of this ruthless pandemic, and the need to 1) support all those suffering right now, whether medically, economically or emotionally and 2) follow the guidance of public health experts to enable us to defeat Covid-19 once and for all.
Stay well and stay home.
Rabbi Joshua Hammerman
To join our Zoom Minyan at 1 today:
Meeting ID: 997 1300 0232
Password: 857139
Click
here
to download the mincha (afternoon) service pdf: